Disaster Restoration Contractor
Restore your home's safety, function, and value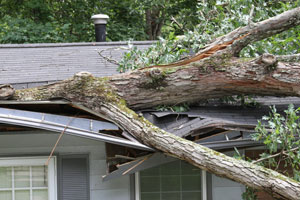 If your home looks like this call our experts today!
SunRay Roofing is your local disaster restoration company specializing in both temporary and permanent repairs after storm damage, wind damage, and more. We respond to emergency calls with speed and efficiency, and will work with your insurance company to ensure that the whole process is stress-free and goes without a hitch.
No matter how small or large the problem, SunRay Roofing can help! Call or contact us online to get started with your disaster restoration in Illinois.
Quality disaster restoration services
When you're dealing with a major disaster such as fallen tree limbs, wind damage, flooding, or any other emergency, we have the solutions you need. Our disaster restoration services are available throughout our service area in Illinois and include:
Storm/wind damage restoration: Strong winds and storms can cause significant damage to your home's exterior. We can help with complete storm and wind damage restoration services to make your home as good as new.
Water damage restoration: Are you dealing with flooding and water damage in your home? We can contain the damage and prevent issues such as mold growth and wood rot.
Fire damage restoration: When you have fire damage in your home, it can be a serious matter to clean everything up and restore both your home and your possessions. A professional disaster restoration contractor like SunRay Roofing can assist with temporary board-up services and more to prevent soot and smoke damage from spreading.
At SunRay Roofing, we know that you need fast and professional service when you're dealing with a home disaster. Don't hesitate to give us a call or contact us online to get started with your disaster restoration!
Looking for a price? Get a no cost, no obligation free estimate.